Axis Vac & HDD is a leading Saskatoon-based provider of directional drilling services (also known as horizontal directional drilling) in Western Canada. We provide effective, efficient, and reliable directional drilling services to a wide range of companies and municipalities for all types of projects in the telecom, oil and gas, and utility (water, sewer) sectors.
Directional drilling is one of the premier methods of installing utilities including cables, pipes, conduits and lines underneath existing structures like buildings, roads, sidewalks, parking lots, water features, and more. Directional drilling requires fewer people on site and eliminates the need to interrupt traffic or other operations on the surface while work occurs underground.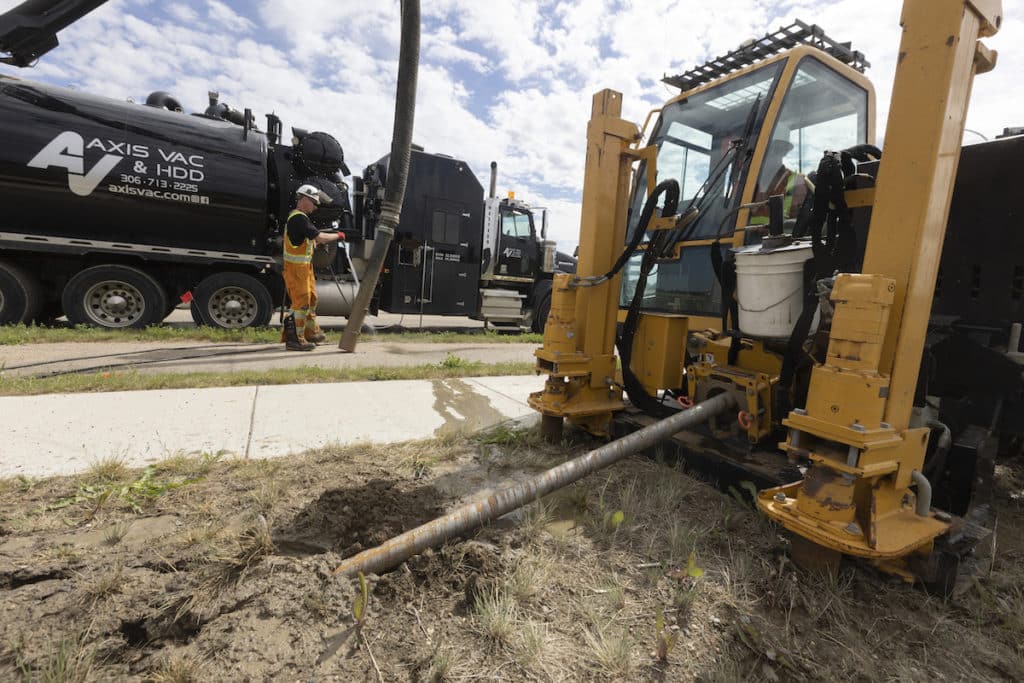 Depending on the project and environmental circumstances, traditional digging and trenching can be time consuming, expensive, and less effective than directional drilling. Directional drilling is also less destructive to the environment, as we can get from one point to another without disturbing the surface. That also means we require fewer machines and less manpower to achieve effective results.
Why Choose Directional Drilling?
No need to disturb existing activities, landscape or traffic on the surface of a span connecting between two points, whether that's a street, a building, a park, a parking lot or a river
Directional drilling reduces the impact on the environment by reducing the amount of material that needs to be excavated to get the job done
Directional drilling can happen during almost any types of weather in all types of Western Canadian climates
No need to remove or relocate obstacles or obstructions in the path of the utility that is being run — just go under it!
Directional drilling can be used in locations where traditional trenching or excavation is simply impossible
Quick Stats about Axis Vac's directional drilling capabilities
Directional drilling for oil and gas, power, fibre optic and water and sewer applications
Various drill sizes with 6000- 100000 lbs pull back
Various bore diameter drill shots (600m/ 36″)
Mud mixers, mud trucks, water trucks, F5 Falcon locators
Reel stands, pipe fusing (electro and butt fusion)
Questions about directional drilling? Don't hesitate to get in touch with Axis Vac & HDD. We're here to help.